Tomato Saar
I just love this saaru and it is very easy to cook also. There was a time when I used to ask my mother to make this saaru everyday for lunch.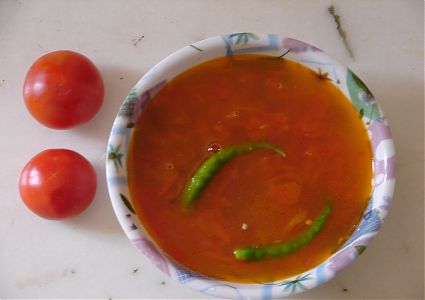 Ingredients
Juicy Tomatoes - 2
Green Chillies - 3 to 4
Garlic - 10 to 12 cloves
Oil
Salt to taste
Method
Cut tomatoes into small pieces and set aside.
Heat some oil in a pan. To this add the garlic (crushed) and saute till it starts turning light brown.
Now add the tomatoes, green chillies slit into two and salt to taste.
Cover the pan with a lid and cook on a small flame till the tomato is cooked. (for about 4 mins)
Now add about 3 cups of water and bring to a boil ( add more water if the tomatoes are big) and the saaru is ready.
Preparation time: 10 minutes