Breadfruit sidedish.
jeev kaDgi is yet another favourite vegetable for the konkanis. I just came to know that it is called Breadfruit in English. A variety of dishes are made with this jeev kaDgi and I hope to blog sometime about all of them.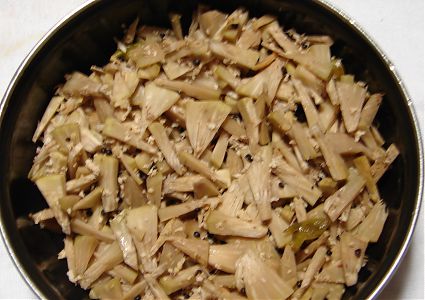 Ingredients
1 medium sized jeev kaDgi
Green chillies - 4
Mustard - 1 teaspoon
Grated coconut - 3 tablespoons
Oil for seasoning
Salt to taste
Method
Peel the outer green skin of the breadfruit and cut into small pieces.
Heat oil in a kaDai.
Add mustard. After the mustard stops sputtering, add the green chillies slit into two.
Now add the kaDgi pieces, salt to taste and fry on a small flame for a few minutes.
Now add about half a cup of water (add more water if it is not enough), close the lid and cook the upkari till the water evaporates and the kaDgi is cooked.
Finally garnish with grated coconut.
Tips
Be sure to coat your hands and the knife with edible oil before cutting the kaDgi.
You can put these pieces into water if you are not going to cook immediately to prevent the blackening (like potato)
Preparation time: 30 minutes