ashgourd halwa
Ashgourd/white pumpkin/Winter melon is very good for health and has a cooling effect on the body. I especially like the Damroot and Pheta sweets made out of it but I feel taht it may be tedious to make them at home. So I prefer to cook this halwa at home. It is also widely used in making sambhars.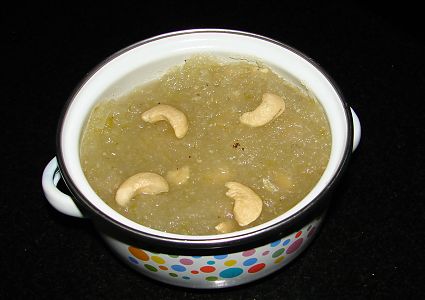 Ingredients
Grated ashgourd - 2 cups
Sugar - 3/4 cup
Ghee - 2 tablespoons
Cardmom/Elaichi
Cashew
Method
Cook the grated ashgourd in a wide bottomd pan. Do not add any water as it discharges water on its own. It will take about 20 minutes to become soft.
Now add sugar and cook again for a few minutes on a low flame.
Add some ghee, elaichi powder and garnish with cashewnuts.
Time required: 40 minutes