buns
I had forgotten about buns for a long time. Then I made it last week and again today morning. Buns resemble puris, are very fluffy, a little sweet and is very easy to prepare for breakfast/evening snacks…..Just prepare the dough in the night, allow it to ferment overnight and make puris out of it in the morning. I made ginger chutney to go with it and I shall write about it in a separate post.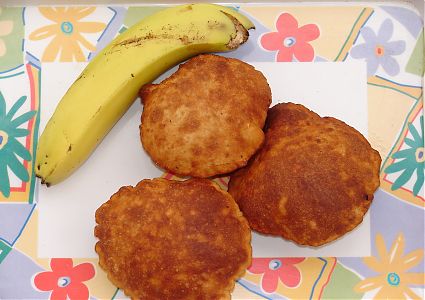 Ingredients
2 Bananas ( pachhbaLe, the ones shown in the picture )
Curd - 3/4th cup
Maida about a quarter kg
Sugar - 4 tablespoos
A pinch of salt
Baking soda
Oil for frying
Method
Blend bananas, sugar, salt and baking soda in a mixer (do not add water)
Add curds to this mix.
Now add as much maida as it can hold and make a dough out of this (the dough must not be soft, no water must be added)
Leave overnight and in the morning make small puris out of it.
Tips
The buns must be deep fried on a very low flame till it gets the reddish brown colour. Preparation time: 20 minutes + Leave overnight Cooking time: 2 minutes