Cabbage sidedish
This spicy cabbage dosa goes very well with rice and daal.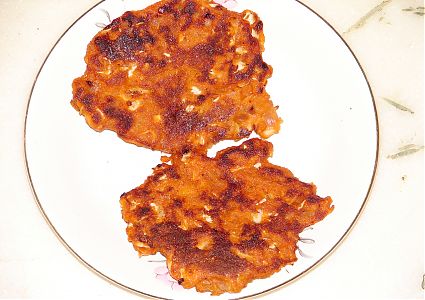 Ingredients
Shredded cabbage - 2 cups
2 onions
Grated coconut - 1 cup
Rice - 1 cup
Toor daal - half cup
Tamarind - small piece
Red chillies - 7 to 8
A pinch of asafoetida (hing) powder
Oil
Salt to taste
Method
Wash and soak the rice and aal for half an hour.
Cut the onion and cabbage into very small pieces and set aside.
Grind together the rice and daal, coconut, red chillies, tamarind and hing to the consistency of a thick paste.
To this mixture, add the onions and cabbage and salt to taste.
Now on a tava, make small dosas out of this mixture with your hand. ( At a time about 5 such small dosas can be made)
Fry with sufficient oil on both sides on a medium flame.
Preparation time: 45 mins