cold macaroni salad
It is very hot in Bangalore nowadays. So I fixed this quick, cold, refreshing, tasty and definitely nutritious salad as an evening snack for us. The recipe was a figment of my imagination. It was a hit and I am planning to prepare again tomorrow ;) For this dish I have used MTR macaroni of different shapes, English mustard and Salad dressing (as I had them in my fridge) for flavouring. I thought it was a good idea to put a picture of those as well. The only time consuming part of this dish is boiling the macaroni.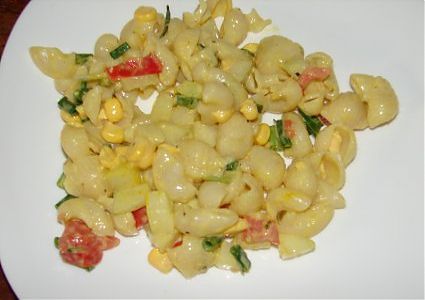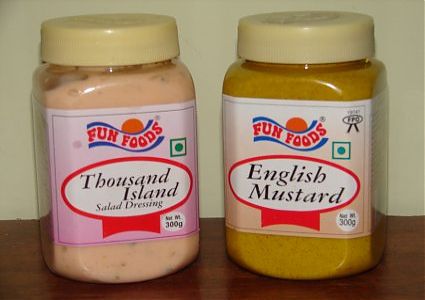 Ingredients
Macaroni - 1 cup
Cucumber (cut into small pieces) - half cup
Tomato (cut into small pieces) - 1
Sweet corn - half cup
Spring onion (finely cut) - a handful
Vinegar
English mustard - 2 teaspoons
Salad dressing - 2 teaspoons
Salt and pepper to taste
Method
Boil the macaroni for a good 20 minutes, drain and set aside.
In a large bowl, add the 2 sauces and vinegar and mix well.
Now add all the other ingredients one by one and toss them.
Add salt and pepper to taste and serve.
It would be a good idea to refrigerate the boiled macaroni for a while if you want the salad to be cold.
Preparation time: 30 minutes