Rice flour roti on banana leaf
This is a very popular breakfast item and literally oil free.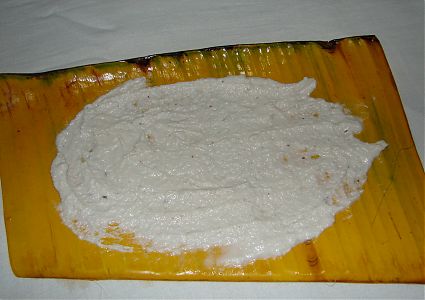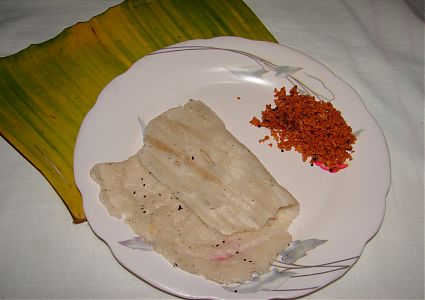 Ingredients
For the roti (5 nos)
Rice Flour – 1 cup
Water or coconut water – 1/2 cup
Grated coconut - 1/4 cup
Salt to taste
Banana leaf - cut into pieces of about (1 feet x 1feet) which can fit into a pan.
For the Dry chutney
Grated coconut - 1/2 cup
Mustard - 1 teaspoon
Tamarind to taste
Red Chillies - 4
Method
For the rotis
Mix together the rice flour,water,grated coconut and salt so that the batter is slightly on the thicker side of the dosa batter.
Now take a handful of batter and spread it on the banana leaf.
Cover this with another banana leaf and fry on tava.
After 2 minutes remove one of the banana leaves and turn the roti batter side down on the tava.
Similarly remove the other banana leaf after a few minutes.
Now the roti is cooked on both the sides.
For the chutney
Heat half a spoon of oil in a pan.
Add the mustard. After it sputters, add the red chillies and fry for a few minutes and turn off the flame.
To this, add coconut, tamarind and salt to taste and crush well. ( do not use mixer for this)
Tips
This roti can be had with regular chutney also.
Preparation time: 20 mins