Rice flour Roti
This roti is very tasty, nutritious and oil-free. It goes well with any of the sabjis,chutneys used with regular chapatis or rotis. It is an ideal breakfast dish.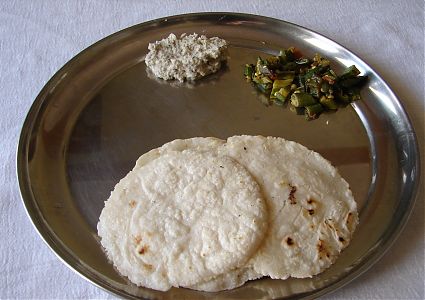 Ingredients
Rice Flour - 1 cup
Water - 1 cup
Oil - half teaspoon
Salt to taste
Method
In a pan heat water with little oil and salt to taste. Bring it to a boil.
Now add the rice flour. The proportion of the rice flour to water must be roughly in equal parts.
Continue stirring the flour on a low flame for about 3 mins. Now the dough must be such that it does not stick to your hands. Close the pan with a lid and set aside for 2-3 mins.
Now use small quantity of the dough to make regular rotis.
Fry on tava without any oil.
Tips
If you feel that the quantity of water or the flour is less, you can add it at any point of time.
While making the rotis, rice flour can be applied if needed.
The rotis need minimal time to be fried on the tava as the dough is already cooked.
Preparation time: 20 mins