mango sidedish
This is a very common sweet n sour dish and is prepared very frequently in most konkani households throughout the mango season :-)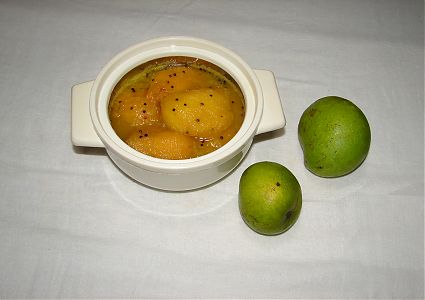 Ingredients
Juicy mangoes - 4
Grated jaggery - 4 tablespoons
Oil - 1 teaspoon
Mustard - half teaspoon
Red chillies - 2
Green chillies - 2
Udad daal - half teaspoon
Bay leaves - a strand
Salt to taste
Method
Peel the mangoes and squeeze the pulp. ( Do not throw away the seed )
To this add the grated jaggery and mix well. If the mangoes are sour, add more jaggery.
Heat some oil in a pan.
Add the mustard. After it sputters, add the udad daal, red chillies, green chillies and bay leaves.
To this add the mango pulp (along with the seed), little water to dilute and salt to taste.
Bring this to boil.
Tips
Use mangoes that are not very sweet. This way these mangoes are put to a good use and the dish tastes sweet and sour.
Preparation time: 15 mins