sweet dosa
Everybody especially the kids love this dosa because it is sweet and something different from the ordinary.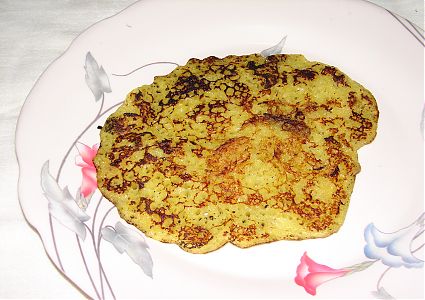 Ingredients
( Serves 4-5 people)
Rice – 4 cups
Grated coconut– 1 cup
Parched Rice (poha) - half cup
Grated Jaggery - half cup
Fenugreek seeds (methi) - 2 teaspoons
Cucumber - 1
Turmeric powder
Salt to taste
Cardamom
Method
Soak the rice and the fenugreek seeds in a container with just enough water to cover for an hour.
In a separate bowl, soak the parched rice for 15 minutes (with very little water)
Peel the cucumber and cut into small pieces.
Now grind together the rice, parched rice and cucumber pieces. Do not add water (the cucumber juice should suffice). The batter should be roughly as thick as idly batter.
To this batter, add jaggery, a pinch of turmeric, cardmom powder and salt to taste.
Leave the batter overnight. Do not refrigerate.
In the morning, prepare thick dosas (do not spread). The dosas will turn out very fluffy. Serve hot with ghee or butter.
Tips
Puffed rice can be used instead of parched rice.
If cucumber is not available, use more coconut.
Preparation time: 1 hour , soak overnight