beans sidedish
Valasangi is very widely used by the konkanis. It is called alsande kaayi in kannada and yardlong beans in english. I took photo of this beans, made the dish but forgot to take the picture of the 'finished product' :(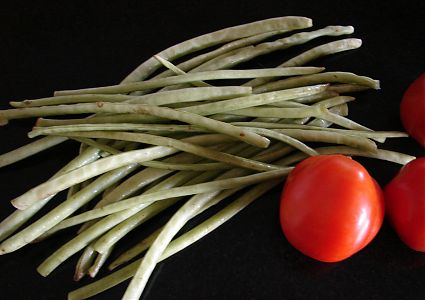 Ingredients
Valasangi cut into small pieces - about 2 cups
Green chillies - 3 to 4
Mustard - 1 teaspoon
Grated coconut - half cup
Curry leaves (optioal) - a few
Oil
Salt to taste
Method
Heat some oil in a kadai.
Add mustard. After it stops sputtering, add the curry leaves and the beans.
Add some salt and fry on a low flame for a few minutes
Now add sufficient quantity of water (about a cup) and cook till the beans are soft.
Just a few minutes before all the water drains, add the grated coconut and mix well.
Serve as a sidedish with rice and curry.
Preparation time: 10 minutes Cooking time: 15 minutes