chakli
I guess chakkuli/chaakli/chakkli needs no introduction. There are many ways of making chakklis. The conventional method of making chakklis is quite elaborate. However if you get a craving for chakklis, here is a method of making instant chakklis. I did not go to the trouble of making round shapely chakklis though, which saved me time all the more :)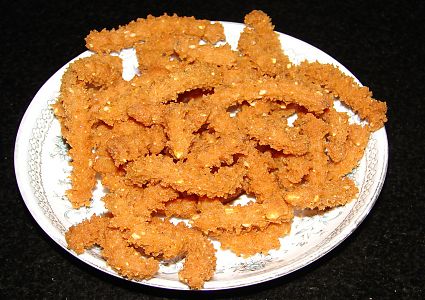 Ingredients
Rice flour - 2 cups
Hurigadale powder (putani, dalia split)- 1 cup
Maida - half cup
Butter (optional) - quarter cup
Salt to taste
Red chilli powder - 1 teaspoon
Sesame seeds/til - 1 teaspoon
Oil for frying
Method
Mix all the flours, salt, sesame seeds, chilli powder, melted butter (alternatively you can use heated oil).
Now add some water and knead it into a soft dough (the more you knead, the better it is).
Heat oil in a kadai.
Fill the dough into chakkli press and press the chakklis in the kadai.
Deep fry on a low flame till they turn golden brown.
Preparation time: 15 minutes Cooking time: 5 minutes