Radish fry
The phodis are eaten as a side dish with rice and any curry. The phodis can be made with virtually any kind of vegetable like potato, raw banana, brinjal,okra etc etc. Earlier I had posted about bittergourd phodi . Traditionally rava will be added to make the phodis crispy. But in this mulangi phodi I have not used rava. And believe me even people who dont like radish will love this phodi.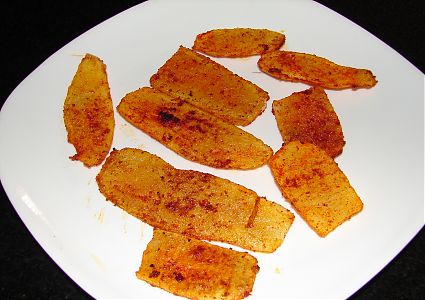 Ingredients
2 Radish
Red chilli powder - 1 teaspoon
A pinch of turmeric
Oil for frying
Salt to taste
Method
Peel the outer skin of the radish and cut vertically into long slices.
Now add salt, chilli powder and turmeric. Mix well.
Shallow fry on a pan with little oil on both sides (on a low flame) for about 10 minutes.
Preparation time: 10 minutes