karate phoDi
Unlike most people I really love karate. My mother was with me this weekend and I asked her to make karate fry for me. It tastes yummy with rice and daal or any other curry.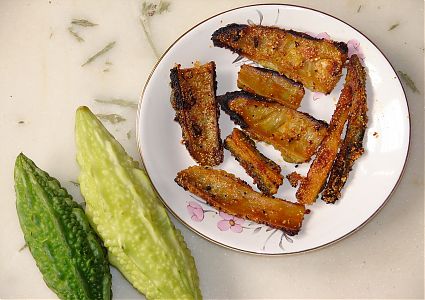 Ingredients
2 Bittergourds ( cut into long slices)
Red chilli powder
Tamarind pulp
Salt
Rava - 1 teaspoon
Oil for frying
Method
Apply salt to the karela and set aside for atleast one hour. The longer you marinate, the less bitter it will be.
Drain all the salt water from the karela pieces by taking a handful and squeezing tightly.
To this apply the tamarind pulp, red chilli powder and rava.
Shallow fry on a tava on a small flame with sufficient amount of oil.
Marination time: 1 hour Cooking time: 20 minutes