potato sidedish
I was tired of having the usual idli,dosa, chapatis for breakfast. While I was trying to think out of the box, I remembered about the hot and sour batata song which my mom makes. It goes very well with chapatis,puris and even bread. It is very easy to make and all the ingredients required to make it will almost always be available in anybody's kitchen. But I still wonder why it got the name 'song' though. As far as I know there is no special meaning to the name in konkani.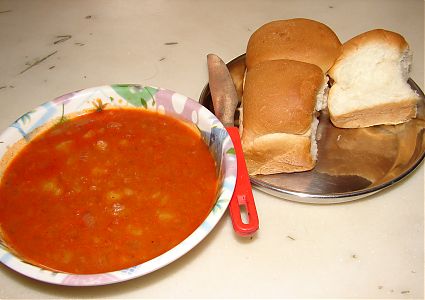 Ingredients
Potatoes - 4
Onions - 2
Chilli powder - 2 teaspoons
Tamarind - size of a small lemon.
Salt to taste
Oil for frying
Method
Boil the potatoes, peel the skin, mash and set aside.
Soak the tamarind in a little water or you can use tamarind extract.
In a kadai, take a little oil and fry the onions till golden brown.
Add about 2.5 to 3 teaspoons of chilli powder (the more the better… ofcourse depends on individual taste) , tamarind and salt. Fry for a few minutes.
Now add the mashed potatoes, add some water and cook till it reaches a medium consistency.
Make sure to add more tamarind, more chilli and ofcourse a little more salt to get the desired hot and sour taste. Serve with toasted bread, chapatis or as a sidedish with rice.
Preparation time: 10 minutes Cooking time: 15 minutes